Published on February 2021 | Trail done in November 2020
Gandikota -
Grand Canyon of India
Experience Nature walk and Hike in Massive G
orge of Gandikota
The Gorge of Gandikota is situated in the Erramala range of hills in Jammalamadugu,
Rayalaseema region,
Kadapa District of ​Andhra Pradesh.
This natural stretch of precipitous gorge in the rocky mountains is formed by the Pennar River which flows at its foot.
The massive canyon is a spectacular group of red granite rocks, cut and layered by natural forces.
Explore the history and archaeology fused with adventure activities.
A majority of destinations around the world have now started easing travel restrictions introduced since January 2020 in response to the COVID-19 pandemic.
India is a place that everyone should visit once in their lives to get a different perspective of life.
Travelling in the new normal post pandemic has changed the rules of tourism, as tourists are now preferring to avoid crowded places, picking mono destinations to stay safe.
Gandikota is the perfect place to plan your holiday tour or nature trail, fused with the newly started adventure sports.

Soak in the scenic views of grand canyon of Gandikota. A visit to Gandikota can be very inspiring and soul refreshing to unlock the minds and etch the memories for lifetime.
Once you are on your way to Gandikota from Jammalamadugu the amazing landscapes of penna river, Erramala hills, unending view of plateau plains and windmills welcome you on either side of the road.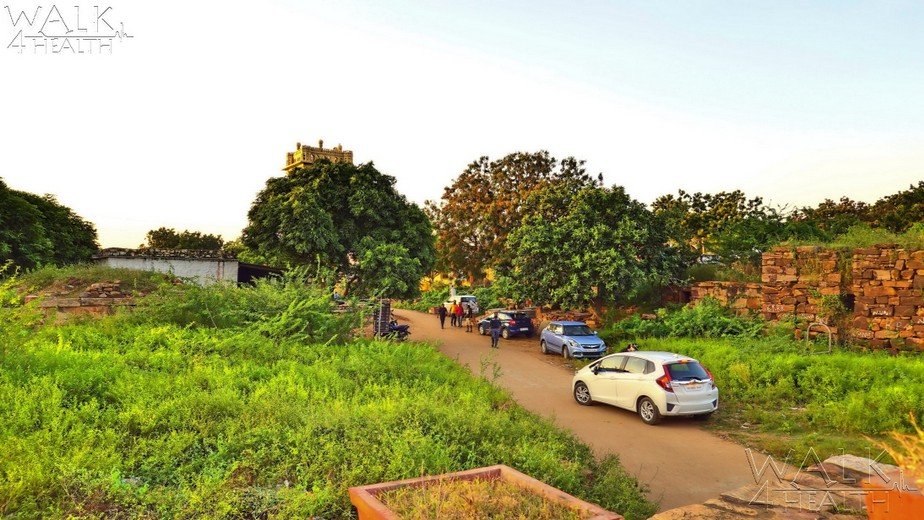 Gandikota is a small village, about 15 KMs from Jammalamadugu in Kadapa district of south Indian state, Andhra Pradesh.
Gandi means gorge and kota means fort in Telugu, thereby giving its name Gandikota.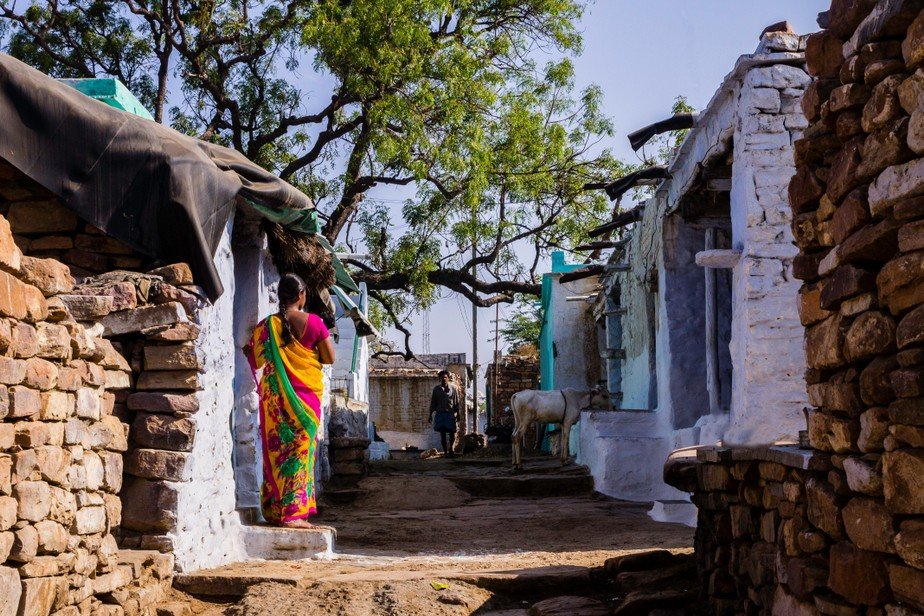 In Rayalaseema, most of the houses built with locally available black granite stones.
The soul of India lives in its villages, Over 60 percent of the population still lives in villages of India.

Most of Indian villages have a very beautiful and attractive lifestyle with domestic animals co-living in every home.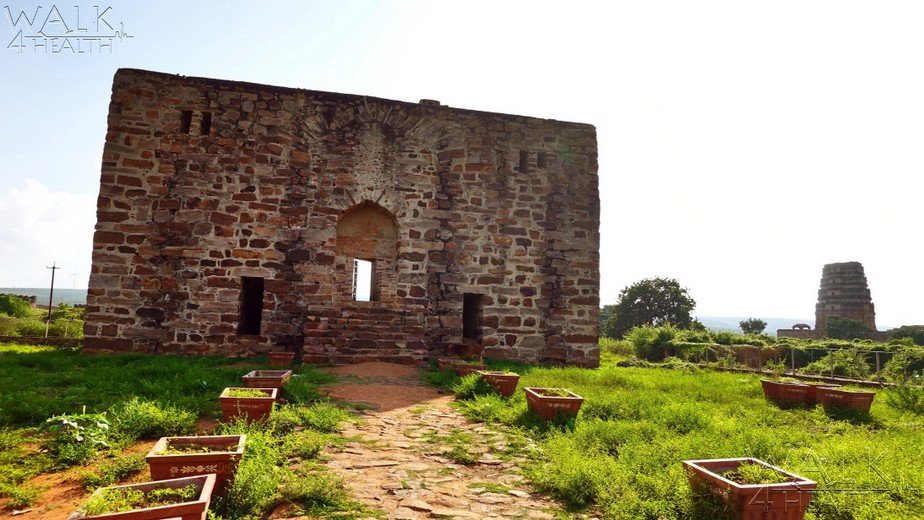 For history lovers there are exquisitely carved sculptures of Madhavaraya and Ranganayakula Temples, beautiful Juma Masjid, Mini Charminar, Jail, etc. apart from Gandikota Fort and Grand Canyon View Point.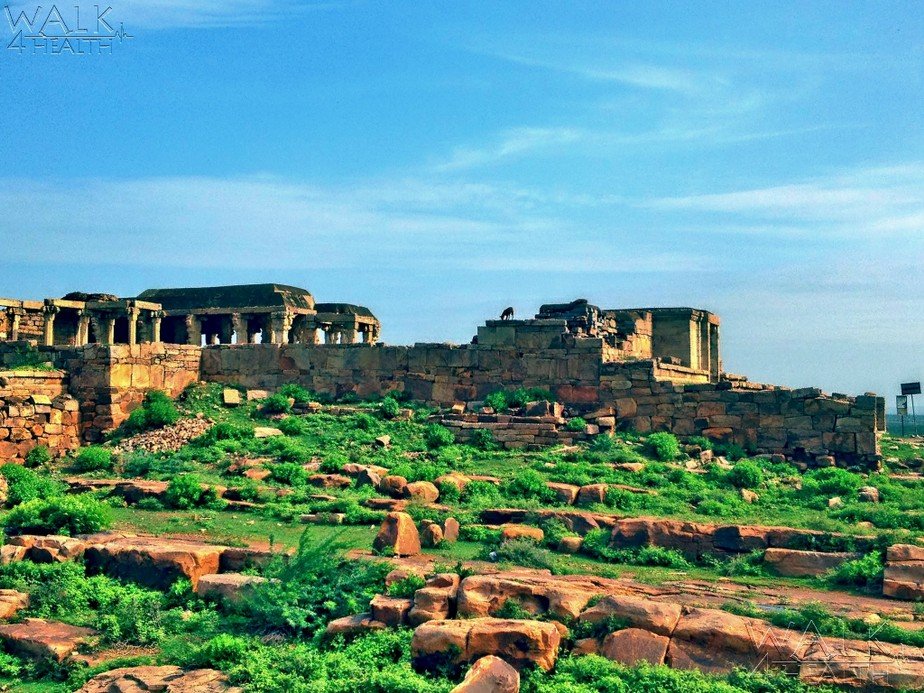 Madhavaraya and
Ranganayakula
Temple in Gandikota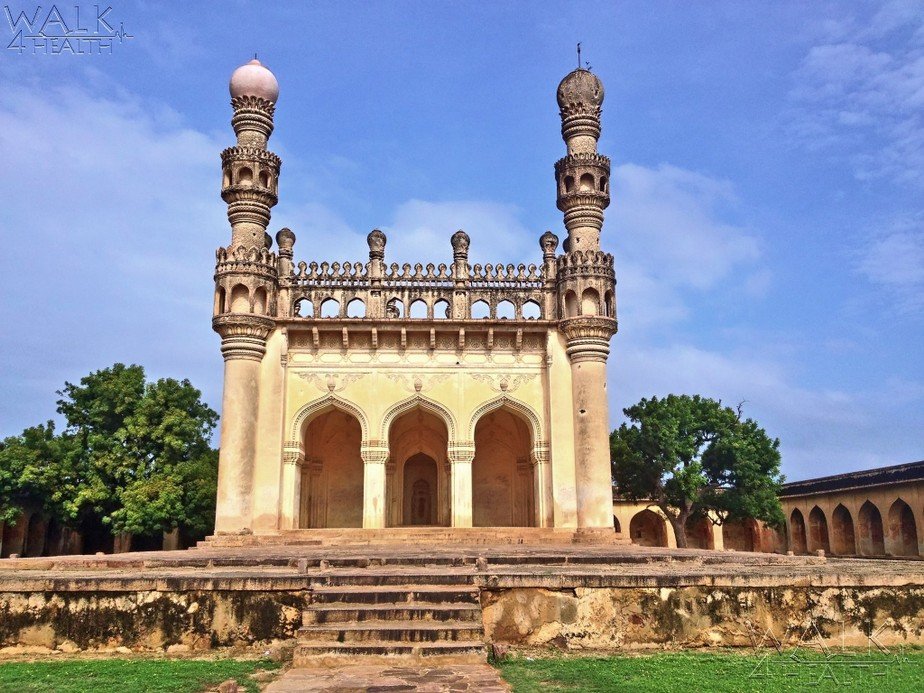 One can spend whole day in admiring the picturesque landscape in and around Gandikota. For photography lovers, every single frame towards canyon is a worth capturing and amazing.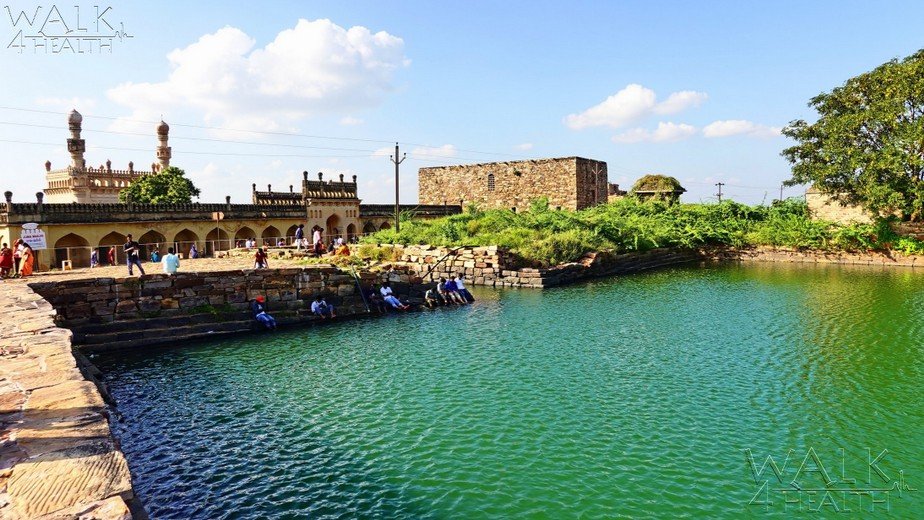 Kathula Koneru - Pond of Swords - is a small pond inside Gandikota Fort. During medieval times kings of gandikota, after coming from war, used to wash their swords in this pond. That's why water in this pond used to be red in color during their times. Visitors are often seen refreshing up in the pond, enjoying fish pedicure.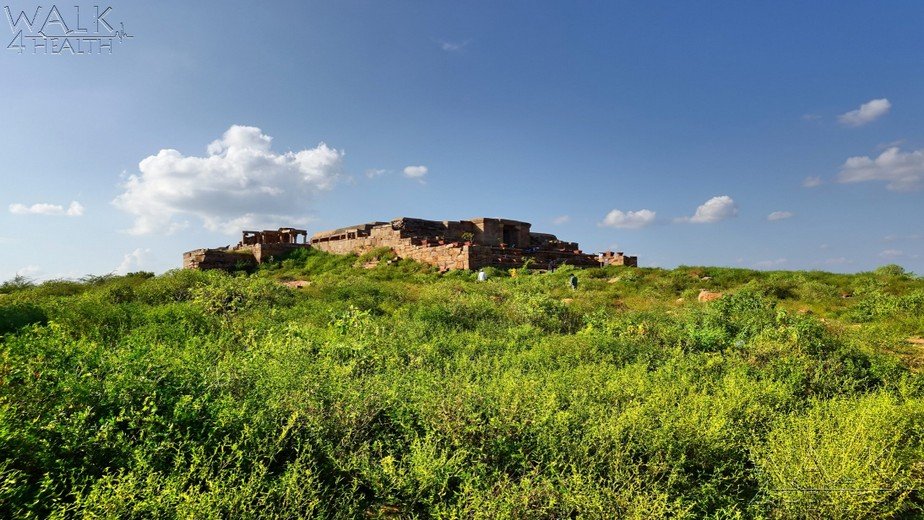 Gandikota fort was a center of power for rulers of various dynasties like Chalukyas, Nayakas and the Golconda Sultanate.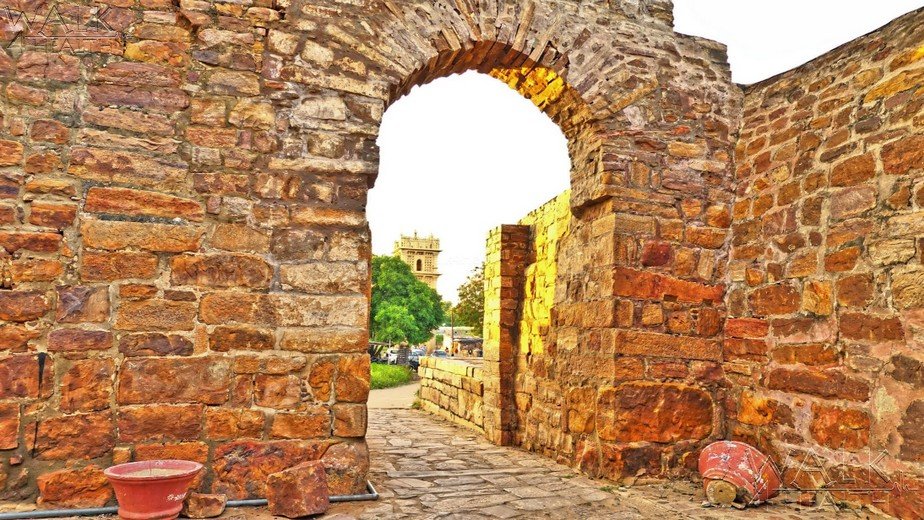 Gandikota was identified as strategic area and a mud fort was constructed by Kapa Raja in 1123 AD as feudatory to Western Chalukayan Emperor Someswara I.
The martial clan of Pemmasani Nayaks ruled Gandikota and its surroundings after the fall of Kakatiya dynasty in 1370 AD.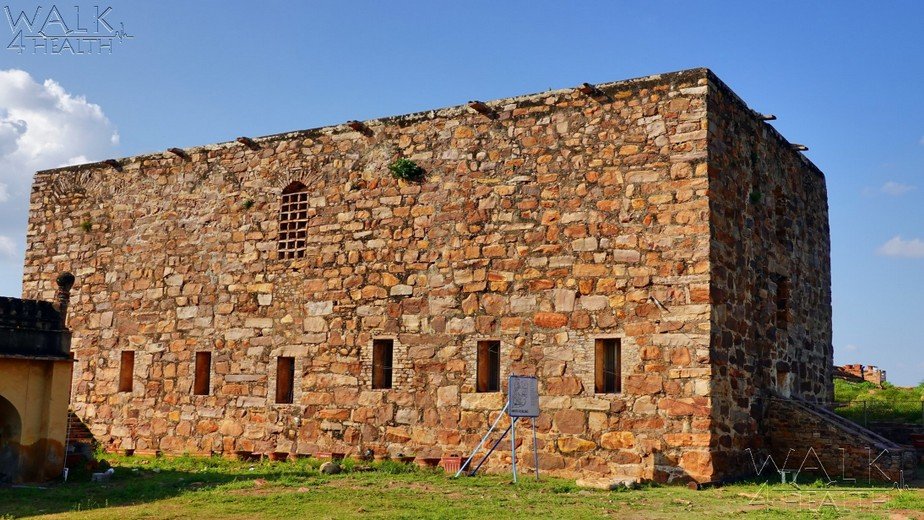 The first ruler Kumara Thimma Naidu fought many successful wars for Vijayanagar emperor Bukka Raya and won laurels by defeating the enemies. He quickly built many a fortresses in Jammalamadugu, Vajrakarur, Kamalapuram, Tadipatri, Pamidi and fortified Gandikota as his capital. Thimma Naidu (1420-1448) ruled over Gutti and surrounding regions including Gandikota.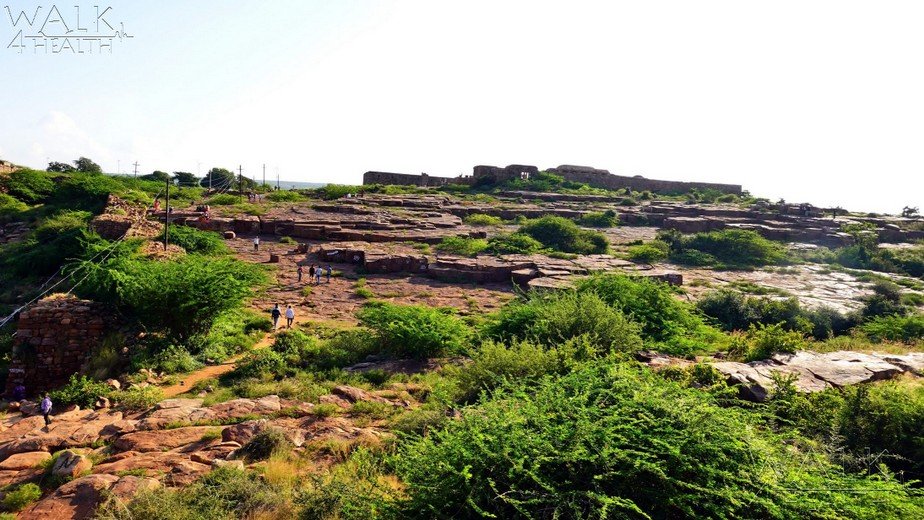 Gandikota became the capital of Pemmasani Nayakas who ruled the fort and Gandikota region for more than 300 years. In 1652 A.D Pemmasani Timma Nayaka lost Gandikota battle with the attack of Mir Jumla, military general of Qutb shahi dynasty. Gandikota then came under the power of Golconda sultanate and Timma Nayaka became their feudatory king.

Masjid and a granary has been constructed by Mir Jumla
He developed Gandikota as an impregnable fortress building huge boundary walls and watch towers on three sides with the Pennar river gorge forming the natural boundary wall on the fourth side.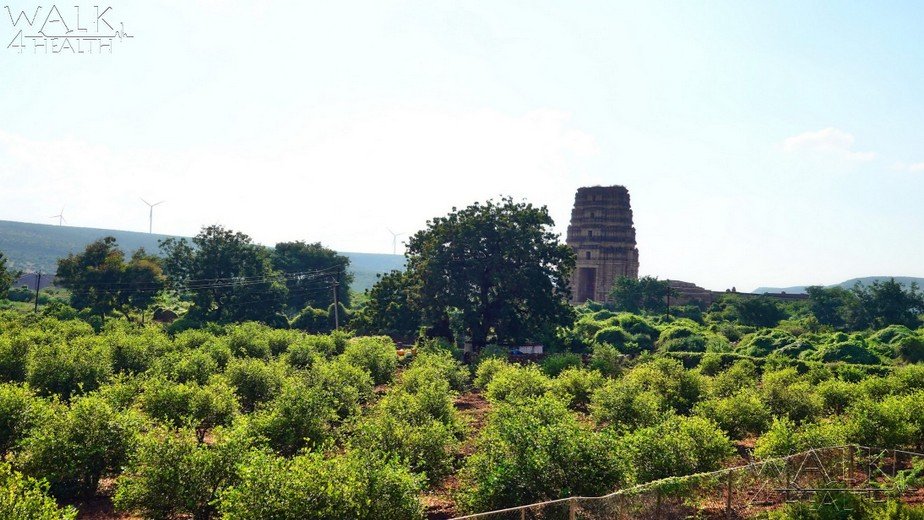 Ramalinga ruled Gandikota (1509–1530) as a contemporary to the greatest emperor Krishnadevaraya. During his period he built two other temples Madhaswamy and Ranganatha temple.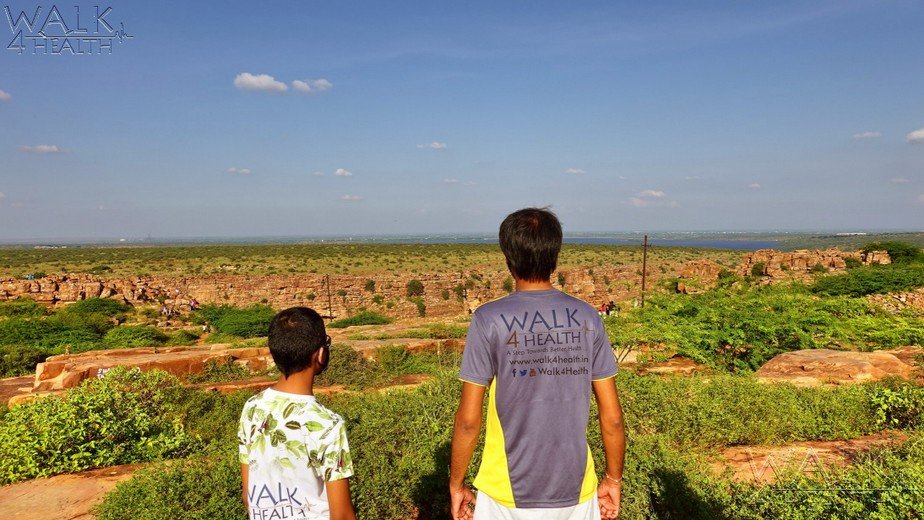 To reach the Gorge view one has to leap down reddish brown rocks all the way till the edge.
The rocks are flat and it's definitely a fun activity to leap down these rocks with very little risk.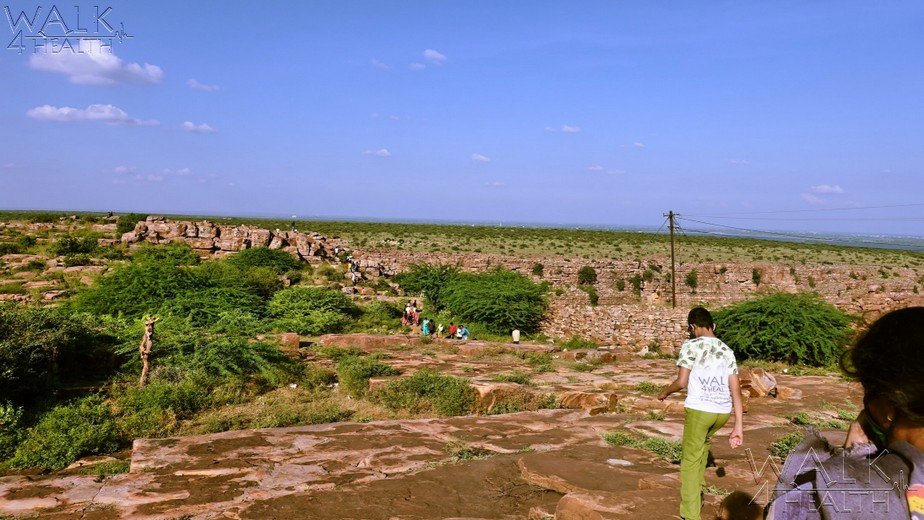 Senior citizens and kids below 10 years require assistance while crossing through these rocks.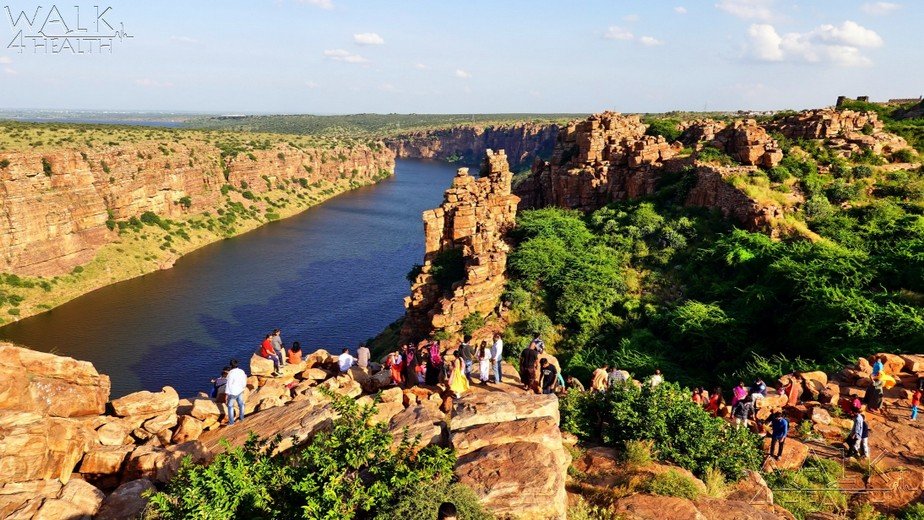 Gandikota Gorge located 300 feet above sea level, forming a lovely gorge on the Pennar river valley.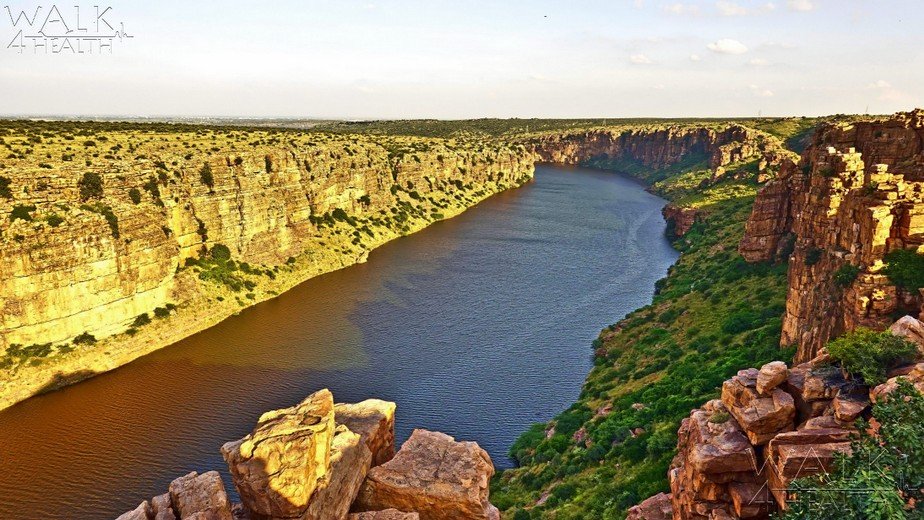 Gorge view is just breathtaking, and no wonder p
eople refer to it as the
Grand Canyon of India.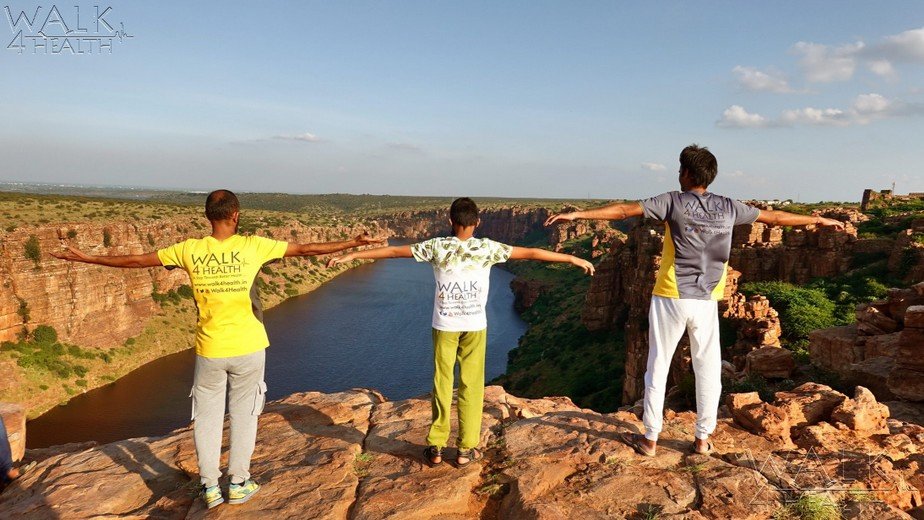 Team Walk4Health having a flying experience at the edge of Gorge.
The Gorge looks wonderful during Sunrise and Sunset, the amazing views of golden yellow hue of setting sun's rays spilling all over the rocks takes one's breath away.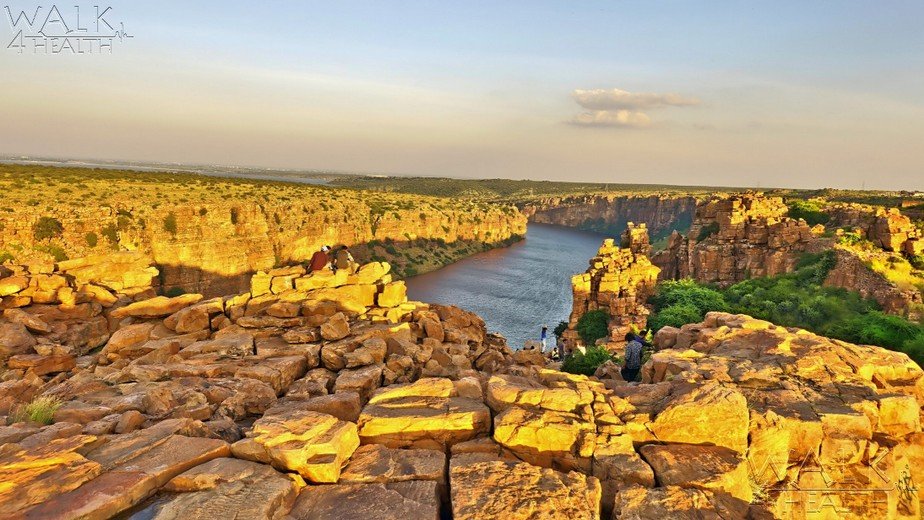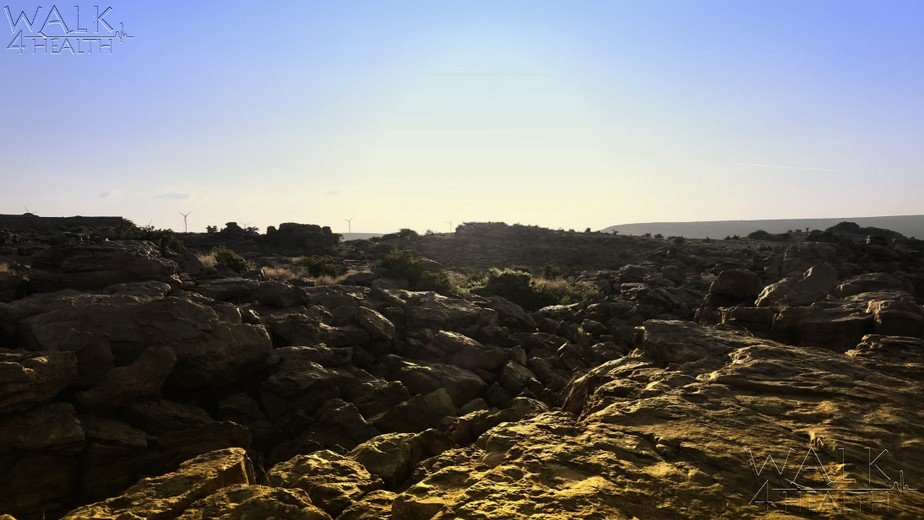 When it is about to get dark, soak yourself in the beauty of the canyon while the moon rises on the opposite side.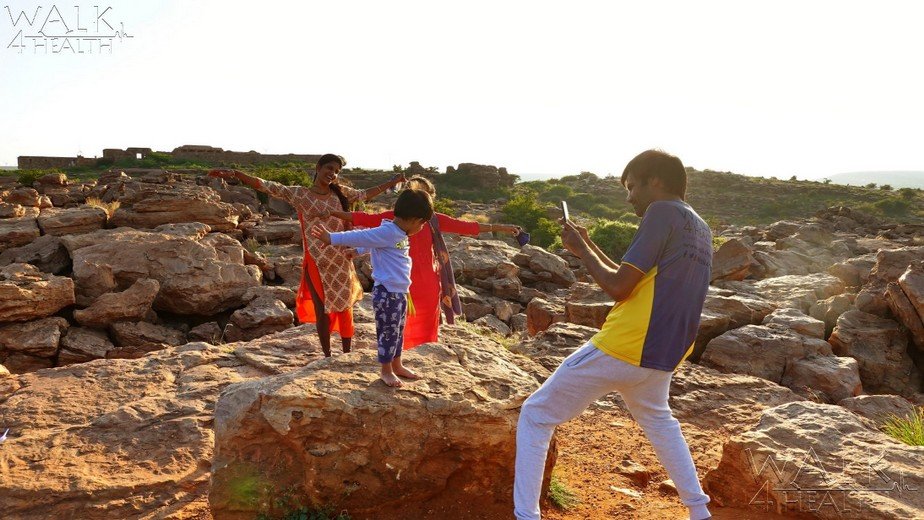 No reviews or comments can justify the beauty of this location, you need to witness and experience the true beauty of nature by immersing yourself.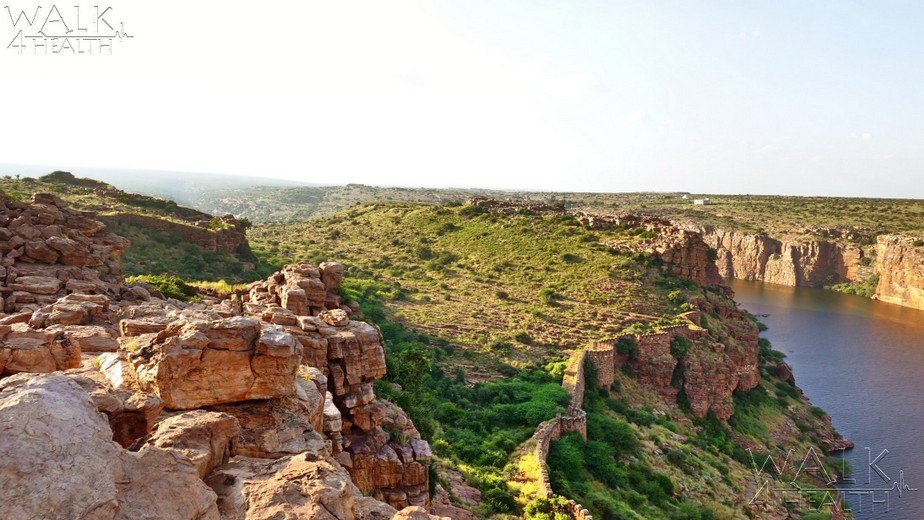 You can opt nature walk along the fort's wall, or spend some calm moments by the serene river.
One can do trekking to the bottom of the Gandikota Gorge to indulge in swimming, life jackets will be provided by the local guides.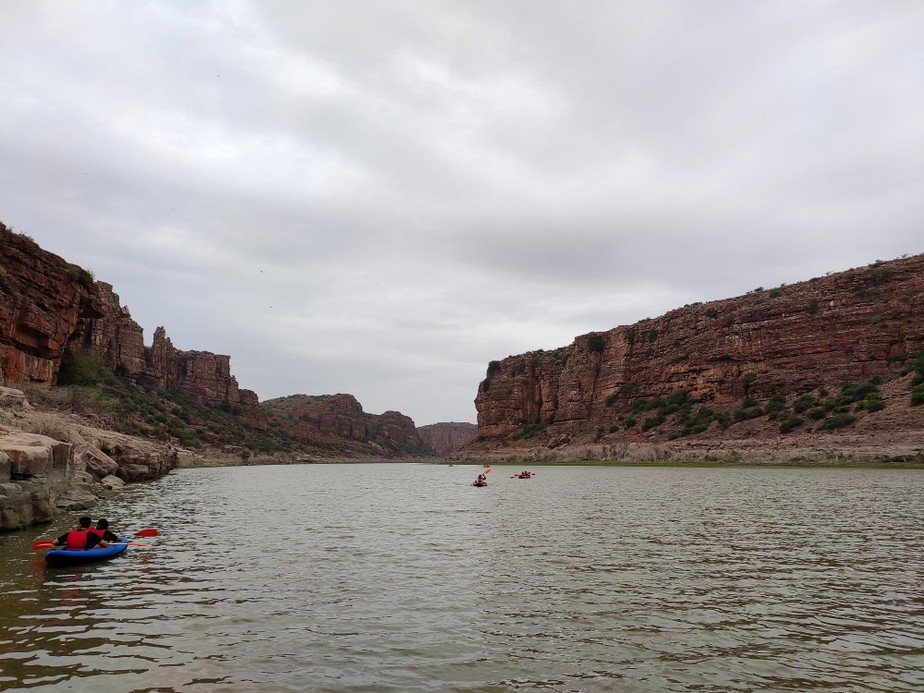 Gandikota fort was built in such a manner that the gorge provides it a natural defence on the north and west sides having natural flow of Penna river.
This place is a perfect blend of history and nature with ruins of Gandikota fort at one end and
breathtaking Penna River View from top of rocky terrains at other end.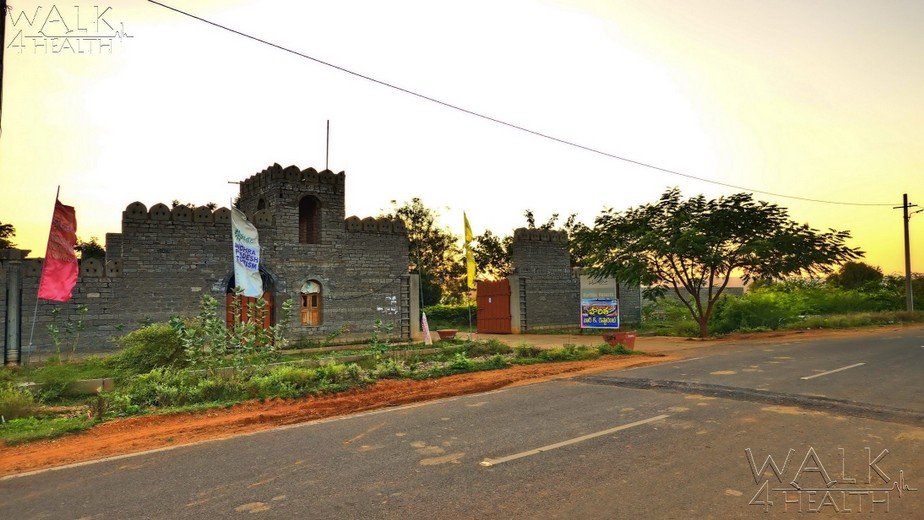 Gandikota Haritha Hotel has resturant to have food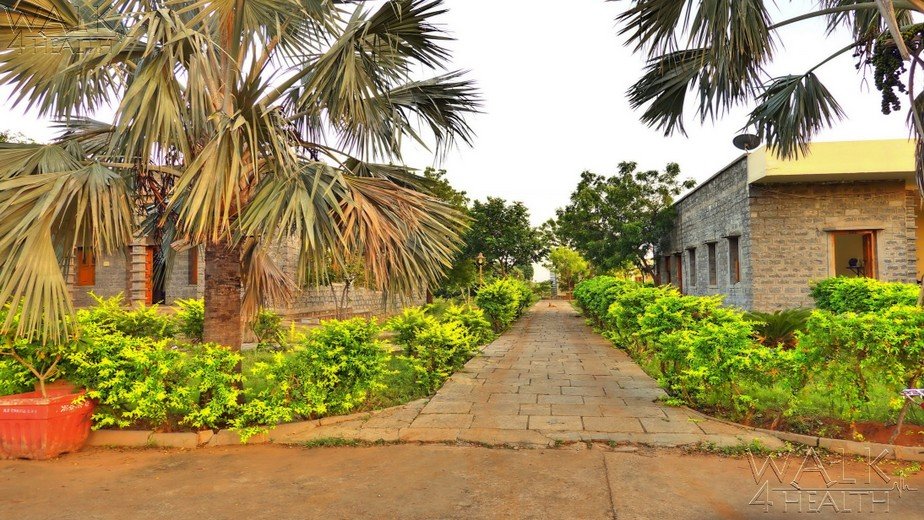 For night stay one can opt for Haritha Resort in Gandikota operated by Andhra Pradesh Tourism.
However, in case of nonavailability of rooms one can opt for staying in camps instead.
These camps were located in the Haritha resorts premises only.
While staying in these camps, you can have access to the resort's common washroom and restaurant.

Alternatively choose from persons who operate camping tents near the Gorge, if you are travelling as group this is the best option to camp near Gorge for wonderful experience.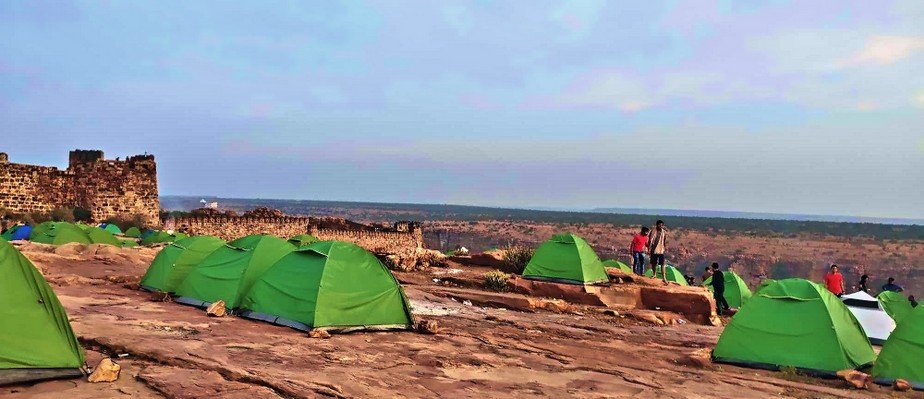 During holidays accommodation might be difficult at Gandikota, better options are available near places like Jammalmadagu and Proddaturu for comfortable stay if required. For responsible and eco tourism we suggest you to stay in tents near Gandikota Fort. Staying in tents will encourage locals operating the service in sustaining their livelihood. Please contact
Guru
on
+919959872009
for Tent requirement @ Gandikota.
The operator has exclusive restrooms accessible to people opting for camp tent from him.

Single tent can acommidate 2-3 persons and they charge ₹1000 per person with Dinner and Breakfast included.
Services provided along with a Camp Tent within package:
Gandikota Camping

Swimming in Penna River with life jackets

Best time to go would be October through February,
visit this place immediately after the monsoon as everything will be lush green and the river will be full of water. The canyon looks more
mesmerising
when the river is gushing.
Avoid visiting during the summer as temperature can touch 45 degrees C.
For Nature and Adventure lovers the place can be visited anytime during the year.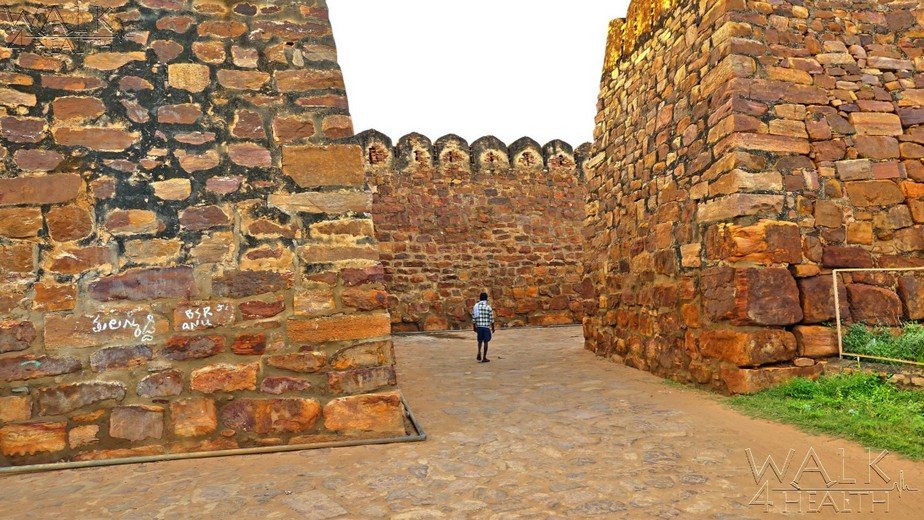 This man made structures in Gandikota fort are in ruins. Anyways, its natural beauty around the Gorge still remains to witness the glory of the place.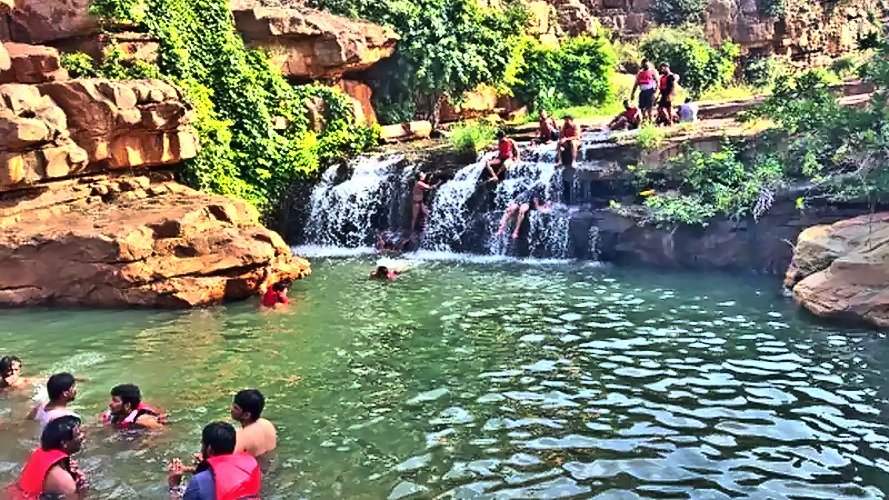 Other attractions near Gandikota
A 2km nature walk on rocks and bushes leads to a beautiful waterfall which is approximately 30 feet deep. Swimming is permitted, request local guide to provide life jackets if required.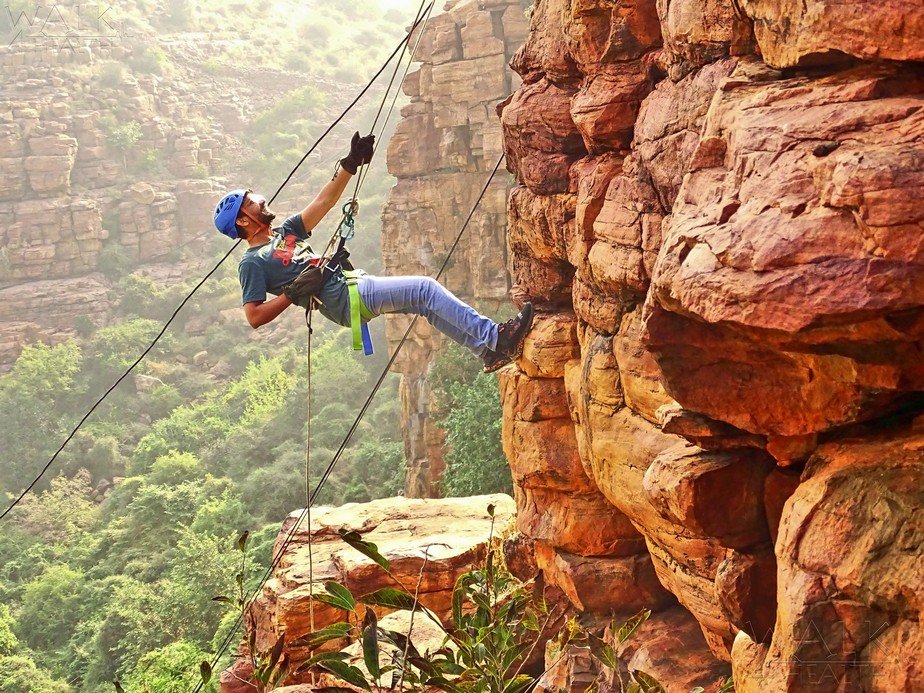 Engage on this amazing thrilling rappelling adventure in Gandikota for an unparalleled experience to challenge the Gravity!
Prepare yourself to this vertical nature walk on rocks while clinging to a rope for your safety.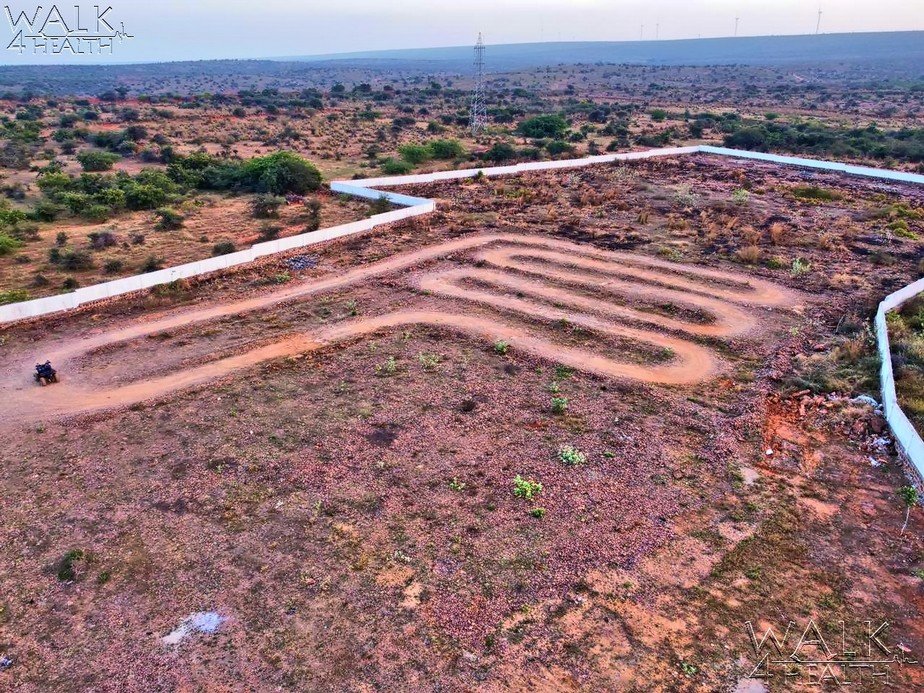 Experience riding All Terrain Vehicle in a wonderful laid out track at
Adventure Sports Academy Gandikota.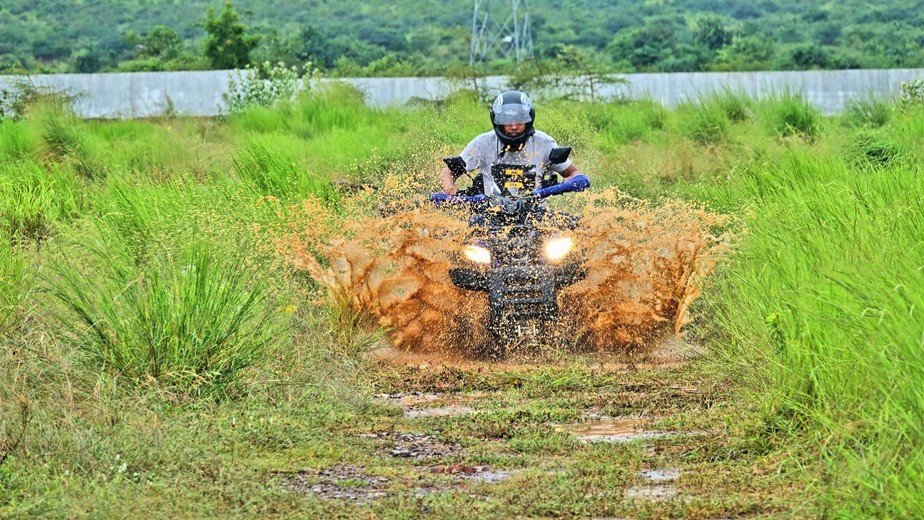 You can have a fun-filled and thrilling
ride!
The Adventure Sports Academy, Gandikota was established in association with the Government of Andhra Pradesh. The primary mission of the Academy is to inculcate the spirit of adventure sports in the youth of the nation.
All Terrain Vehicle ₹300
for 2 Laps
Please contact
Adventure Sports Academy, Gandikota for any further details on
+91 7671963346.
Other places to visit in and around Gandikota, Mylavaram Dam and Boating.
Note: Post pandemic the water sports and boating is not operational till January 2021, please enquire with local guides for boating and Kayaking in Gandikota.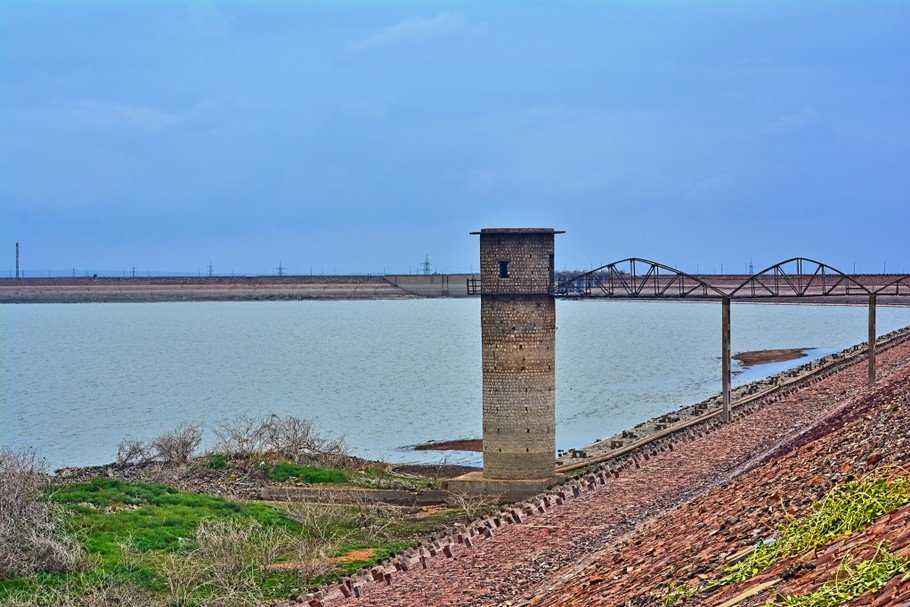 Viewpoint of Pennar River on the Dam, Drive on the dam road, Rock Museum which is next to the Dam complex.
Speed boat available at
Mylavaram Dam
₹600

The wonderful experience at Gandikota is inviting me to explore adventure side of Gandikota and all other attractions in my next trail.
How to Reach:
By Road:
Gandikota is 400 km from Hyderabad a 7 hour drive, 300 km from Bangalore
a 6 hour drive.
By Rail:
The nearest railway station is at
Jammalamadugu
, which is18 km distance,
Muddanur
u -
26KM
.
Yerraguntla - 48km,
Kadapa - 77km,
Tadipatri - 85km.
By Air:
Kempegowda International Airport
,
Bengaluru is the nearest well-connected airport to Gandikota. One can take a flight to
Bengaluru
and can cover the rest of the distance to Gandikota by road.
Rajiv Gandhi International Airport, Hyderabad - 350 km

Chennai International Airport Chennai - 360 km
Bus Services:
Government Buses are now operational from Jammalamadugu to Gandikota.
No availability of bus, you have to hire
an auto or a cab from Jammalamadugu to reach to Gandikota.
Timings: Open 24 Hours,
All Days.
Preferred Timing:
6AM to 6PM
Praking: Free
Route Map of other attractions near Gandikota

2.0km Water Fall (Only by Walk)
111Km Rayalacheruvu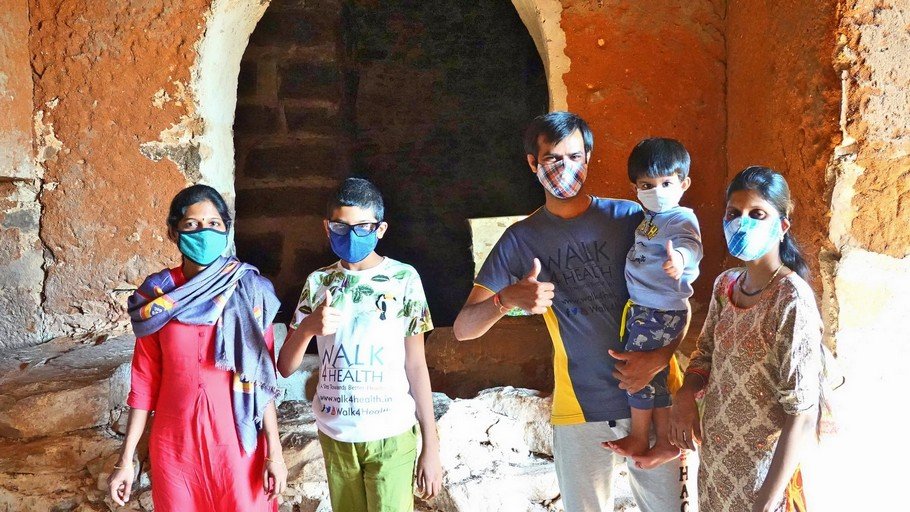 Have a safe and responsible tour, wear mask and stay away from crowds.
Note:
Visitors are requested not to carry any disposable Plastic Bags or Plastic Bottles for the Walk trail as they pollute the environment.
Welcome to Gandikota